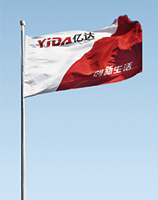 Yida China Holdings Limited (Stock code: 3639.HK), listed on the Main Board of Hong Kong Stock Exchange on 27th June 2014, is an integrated enterprise principally engaged in business park development and operation, construction, property management services, etc. On 17th November 2016, CMIG Jiaye Investment Co., Ltd. under China Minsheng Investment Group officially entered Yida China as the controlling shareholder.
As a professional business park operator, Yida has developed and operated more than 30 projects since 1998, such as Dalian Software Park, Dalian BEST City Core Area Business Park, Wuhan First City, Beijing Yida Lize Center, Yida North Hongqiao Entrepreneur Park, Suzhou High Speed Railroad City, Chengdu Industry Investment Guo Bin Headquarters Project, Chongqing Liangjiang Science and Technology City and Changsha Meixihu Innovation Centre, which converging over 80 corporate customers and business partners Global Fortune 500 enterprises included, together with our extensive experience in developing and operating business parks, forming our distinctive business model and competitive edge.
With our mission to promote the development of city through industry integration to coordinate further development and value creation, Yida China aims to copy and innovate our new business model of high city and industry integration, fully functional, green with low carbon emission, decent environment with sustainable industrial and urban ecosystem in more utilities, so as to create value for our business partners, investors, clients, cities and society.